Fire Loss Specialist (FLS) Virtual Training Course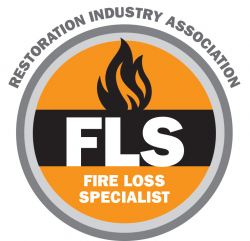 The Fire Loss Specialist (FLS) Training Course is Going Virtual!

Date: July 28 - 30, 2020
Time: 8:00 am - 5:00 pm EST
Delivery Method: Virtual Webinar with Live Instructors
 
---
Fire Restoration Course Overview

The RIA's Fire Loss Specialist (FLS) Advanced Certification Program is the newest of the four pillars of the enhanced Certified Restorer (CR) program. Who are the industry's leading subject matter experts, how did they acquire this reputation, how can you work to becoming a recognized industry leader?
The Restoration Industy Association (RIA) saw a need for specialized education and developed an advanced fire restoration course.There are many informative technical courses and certifications that lead to becoming a Master Fire and Smoke Restorer. However, there has not been a course that deals with contracts, ethics, project management, report writing and consulting in the discipline of fire damage. The Fire Loss Specialist (FLS) course covers a wide array of subjects for fire damage and fire restoration including those listed above. This designation is for those individuals who wish to advance their career and become a recognized subject matter expert in this field. 
---
Instructors
Josh Miller
CR, WLS, FLS, CLS, CMP

Norris Gearhart
CR, FLS, CLS

Joe Meyers
CR, WLS, CMP, FLS, CLS

Ken Larsen 
CR, WLS, FLS, CLS, CMP, CSDS

Kris Rzesnoski
CR, WLS, CLS, FLS, RTPE
---
Prerequisites

Course registrants who successfully pass the FLS exam, must complete and submit the FLS prerequisite requirements by no later than March 31, 2021 in order to complete their certification and receive their certificate.
---
Training Course Fees
 
| | |
| --- | --- |
| FLS Virtual Training Course - Member | $1540 |
| FLS Virtual Training Course - Nonmember | $1855 |
---
Exam Fees

A separate $250 exam fee will apply. After you have completed the FLS Training Course, you will have the opportunity to register to take the FLS exam at a testing center or in an online proctored exam format at a date and time that is convenient for you. You will receive additional information to register for the exam after completing the training course registration.
---
Cancellation Policy
 
The training course availability is limited to 30 attendees. Please be sure you are available to attend when registering. Cancellations must be made in writing and emailed to info@restorationindustry.org. Cancellations received less than 30 days prior to event start date will not be granted a refund. Cancellations received 30 days prior to event start date will be granted a full refund minus a $100 administrative fee.
Course registration can be transferred to another individual from the same company at least two weeks in advance of the event start date. Transfers will not be accepted within two weeks of the event start date. In the unlikely event the training course must be canceled or rescheduled, RIA will contact you to register you in an comparable program.
---
Questions?
 
Contact RIA's Education Manager, Latrice Brookins at lbrookins@restorationindustry.org or 856-380-6914.