RIA Environmental Risk Specialist (ERS) Advanced Pillar Designation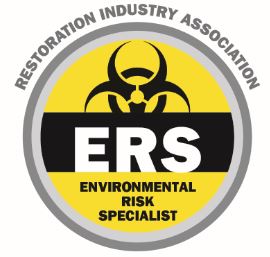 The RIA's Environmental Risk Specialist (ERS) Advanced Pillar Designation is the newest, and final, of the four pillars of the enhanced Certified Restorer (CR) program. 
The NEW RIA the Environmental Risk Specialist (ERS) course will prepare the Environmental Specialist to navigate resources, industry guidelines, and regulations.  This RIA program provides the student with awareness and understanding of the environmental hazards, including Chemical, Biological, Radiological, Nuclear, Explosives (CBRNE) and risks associated with disaster sites.  This course is an excellent opportunity for students in the industry to gain a fundamental understanding of evaluating front-end risks associated with such events.
---
Upcoming ERS Course 
 
Date
December 6-8, 2022 
Time
9:00 am - 5:00 pm EDT
Delivery Method
In-Person
Location
First Onsite Miami
1701 NW 87th Ave Ste 200
Doral, FL 33172
CE Credits
19.5
Course Fee 

$1540 - RIA Member
$1855 - Nonmember

Lunch provided for all (3) days of instruction

Exam Fee
A separate $250 exam fee will apply. Prior to taking the ERS Training Course, you will need to register for the ERS exam through the IICRC. You will receive additional information to register for the exam after completing the training course registration.
Cancellation Policy
The training course availability is limited to 30 attendees. Please be sure you are available to attend when registering. Cancellations must be made in writing and emailed to info@restorationindustry.org. Cancellations received less than 30 days prior to event start date will not be granted a refund. Cancellations received 30 days prior to the event start date will be granted a full refund minus a $100 administrative fee. Course registration can be transferred to another individual from the same company at least two weeks in advance of the event start date. Transfers will not be accepted within two weeks of the event start date. In the unlikely event, the training course must be canceled or rescheduled, RIA will contact you to register you in a comparable program.
Instructors 

Norris Gearhart, CR, FLS, CLS
 


Scott Vogel
---
How to Become ERS Certified
 
Step 1: Meet Pre-Qualifying Requirements (Education & Work Experience)
 
High school diploma or equivalent education 
Training school that teaches courses similar to contents and restoration
Five years of verifiable work experience or three years verifiable supervisory experience, project supervisor, estimator, consultant, inspector, restoration company manager, facility manager, restoration instructor. 
Note: This certification program is recommended for those with 5 years or more of active experience in the restoration industry.
Step 2: Complete the ERS Prerequisites

To be eligible to receive the ERS certification, candidates must complete the prerequisite requirements in each of the following domains 30 days in advance of the course. A certificate of completion will be required as verification that each domain requirement has been satisfied.
Domain

Prerequisite Courses

Domain #1: Microbial Remediation

Choose one of the following:

RIA Certified Mold Professional Training Course (CMP)

Mold Restoration Specialist Training Course (MRS)

or equivalent hours of training (approval required)

Domain #2: Safety Training
(75 contact hours)

Must total 75 contact hours:

Domain #3: Water Training
(19 contact hours)

Domain #4: Project Management

Choose one of the following:

Or Equivalent Project Management Course eg. Violand Project Management Course, PMP Certification

Or documented project management work experience (5 years or more) with quiz (80% score or better)

Domain #5: Fire
(21 contact hours)

Must total 21 contact hours:
Step 3: Take the ERS Course & Exam
 
Candidates must apply and register for the ERS Training Course & Exam. Be prepared to upload the following documents with your application:
Resume
Prerequisite certificates of completion for each domain (if you have completed any at this time)
This is the final course for those pursuing their RIA advanced certification, the Environmental Risk Specialist, and incorporates lectures, specialized presentations from subject matter experts in their field, case studies and group study work.
Step 4: Complete the ERS Risk Assessment

Upon passing the ERS certification exam, candidates must submit an ERS Risk Assessment within 180 days of completing the course. Once the ERS Risk Assessment is approved, candidates will then receive their ERS certification and be eligible to be pinned at the RIA Convention Pinning Ceremony.
Questions?
Contact Robertto Rickards, RIA Education Manager at rrickards@restorationindustry.org.