Restoration Industry Association Water Loss Specialist (WLS) Certification Program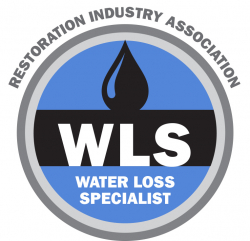 Restoration Industry Association (RIA)'s Water Loss Specialist (WLS) Advanced Certification Program is one of the four pillars of the enhanced Certified Restorer (CR) program. 
WLS incorporates a wide variety of vetted industry-related courses representing the four major Domains of Knowledge as part of its pre-requisite course requirements. Like all RIA advanced certification programs, the WLS includes a rigorous course of self-study, combined with live instruction from well-known industry leaders. 
The Water Loss Specialist (WLS) Advanced Certification Program is recognized by insurance companies, building owners and managers, as well as the public and governmental authorities as the premiere achievement of excellence.
Be sure to review our WLS Candidates guide for exam info, formal report requirements, FAQ's and more!
Download the WLS Candidate's Guide
Step 1: Meet Pre-Qualifying Requirements (Education & Work Experience)
High school diploma or equivalent education; OR active RIA CMP or CR Certification
Five (5) years of verifiable work experience or three (3) of verifiable supervisory experience (Experience can include: restoration worker, project supervisor, estimator, consultant, inspector, restoration company manager, facility manager, restoration instructor)
Step 2: Complete the Water Loss Specialist Prerequisite Courses
To be eligible to receive the WLS certification, candidates must complete the course requirements in each of the following domains. A certificate of completion will be required as verification that each domain requirement has been satisfied. 2020 Candidates will have until before the pinning ceremony on June 28, 2021 (at the RIA 2021 Convention) to complete the required prerequisites in order to become certified.
For the 2021 August WLS Course, you must complete your prereqs 30 days PRIOR to the August 2021 Course. 
Domain

Prerequisite Courses

Domain #1
Basic Skills in Water Damage Restoration
(minimum of 12 contact hours)
Domain #2
Hands on Water Damage, Restoration & Drying Training
(minimum of 18 contact hours)
Domain #3
Microbial Remediation
(minimum of 18 contact hours)

Domain #4
Health & Safety Training
(minimum of 12 contact hours)

Domain #5
Building Science
(minimum of 7 contact hours)

RIA Building Science Course

Domain #6
Project Management & Commercial Loss Training (minimum of 12 contact hours)
Step 3: Take the WLS Prep Course and Exam
Candidates must apply and register for the WLS Prep Course & Exam. Be prepared to upload the following documents with your application:
Resume
Prerequisite certificates of completion for each domain (if you have completed any at this time)
Letter of Recommendation (from immediate Supervisor)
This is the final course for those pursuing their RIA advanced certification, the Water Loss Specialist, and incorporates lectures, specialized presentations from subject matter experts in their field, case studies and group study work.
Step 4: Complete the WLS Formal Report & Research Paper
Bring a draft of your Formal Report to the WLS Course and receive immediate guidance and advice. Finalize your Formal Report within 180 days of completing the course. Click here for the WLS Formal Report Guidelines.
Reference Documents