Water Loss Specialist Training Course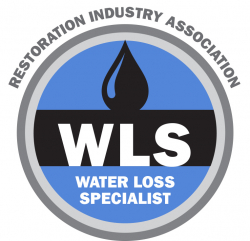 Date: October 20-22, 2021
Time: 10:00 a.m. - 6:00 p.m. ET
Delivery Method: Virtual Webinar with Live Instructors
---
Water Loss Specialist Course Overview

The RIA's Water Loss Specialist (WLS) Advanced Certification Program is one of the four pillars of the enhanced Certified Restorer (CR) program. 
WLS includes a rigorous course of self-study, combined with comprehensive training from well-known industry leaders. The training course covers the following topic areas: Standards & Regulations, Safety, Psychrometry & Drying Technology, Chemicals, Building Structures & Dynamics, Drying Equipment & Instruments, Microbial & IAQ Issues, Drying of Building Materials and Assemblies, Operations, Legal & Ethical Issues and Drying of Contents.
The Water Loss Specialist (WLS) Advanced Certification Program is recognized by insurance companies, building owners and managers, as well as the public and governmental authorities as the premiere achievement of excellence. Completion of this course allows for 19.5 RIA CEC credits. 
Instructors
---
Josh Miller
CR, WLS, FLS, CLS, CMP

 

Lorne McIntyre
CR, WLS, FLS, CLS, CSDS

BIO

David Sweet
WLS, FLS, CMP

 

Pete Consigli
CR, WLS

Ken Larsen 
CR, WLS, FLS, CLS, CMP, CSDS

 
---
Prerequisites
Candidates have 30-days prior to the course to complete the required prerequisites in order to become certified. If still need to take your Domain #5 (RIA Building Construction & Science Course) or Domain #6 (RIA Project Management Course) in order to register for an upcoming 2021 RIA Pillar Course, please contact Jessica Hall at jhall@restorationindustry.org for upcoming offerings and assistance. 
---
Training Course Fees
 
| | |
| --- | --- |
| WLS Virtual Training Course - Member | $1540 |
| WLS Virtual Training Course - Nonmember | $1855 |
---
Exam Fees

A separate $250 exam fee will apply. Prior to taking the course, you will register for your WLS exam thru IICRC. After you have completed the WLS Training Course, you will have the opportunity to take the WLS exam via the Proctor Free online format at a date and time that is convenient for you. You will receive additional information to register for the exam after completing the training course registration.
---
Cancellation Policy
 
The training course availability is limited to 30 attendees. Please be sure you are available to attend when registering. Cancellations must be made in writing and emailed to info@restorationindustry.org. Cancellations received less than 30 days prior to event start date will not be granted a refund. Cancellations received 30 days prior to event start date will be granted a full refund minus a $100 administrative fee.
Course registration can be transferred to another individual from the same company at least two weeks in advance of the event start date. Transfers will not be accepted within two weeks of the event start date. In the unlikely event the training course must be canceled or rescheduled, RIA will contact you to register you in an comparable program.
---
Questions?
 
Contact RIA's Education Manager, Jess Hall at jhall@ahint.com or 856-380-6841.