Cleaning & Restoration (C&R) Magazine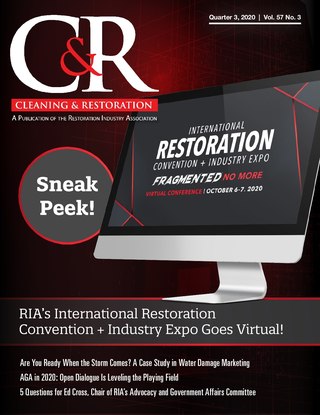 The award-winning magazine Cleaning & Restoration (C&R) Magazine publishes four times a year (one print and three digital editions). For more than 40 years, C&R Magazine has provided RIA readers and restoration contractors and professionals with forward-thinking perspectives from cleaning and restoration industry experts on topics such as safety and training, marketing, business management, technology, legal, cleaning and more. 
View Archived Issues (members only) 
C&R Magazine subscription is included with RIA membership. Nonmembers may subscribe below. Your subscription date starts at the beginning of next month and lasts for 12 months from the start of next month.