2019 Lifetime Achievement Award Winner: Oliver Threlfall
In 2018, RIA's Australasian Council wanted to create an award to recognize the lifetime achievement of accomplished and prominent people in the region who have exhibited exemplary service and leadership to the Australasian cleaning and restoration industry. This special recognition has been dubbed the LTA award and is presented annually at RIA's Australasian Conference and Trade Show.
The inaugural recipient was unanimously (and secretly) agreed upon by the council members, and was presented to longtime industry restoration advocate and elder statesmen from Queensland, Duncan Bennett, WLS. The council asked RIA honorary member Pete Consigli, CR, WLS, who serves as steward of RIA's most prestigious honor, the Martin L. King award, which is presented at RIA's annual convention and exposition in the United States, to oversee the inaugural LTA ceremony.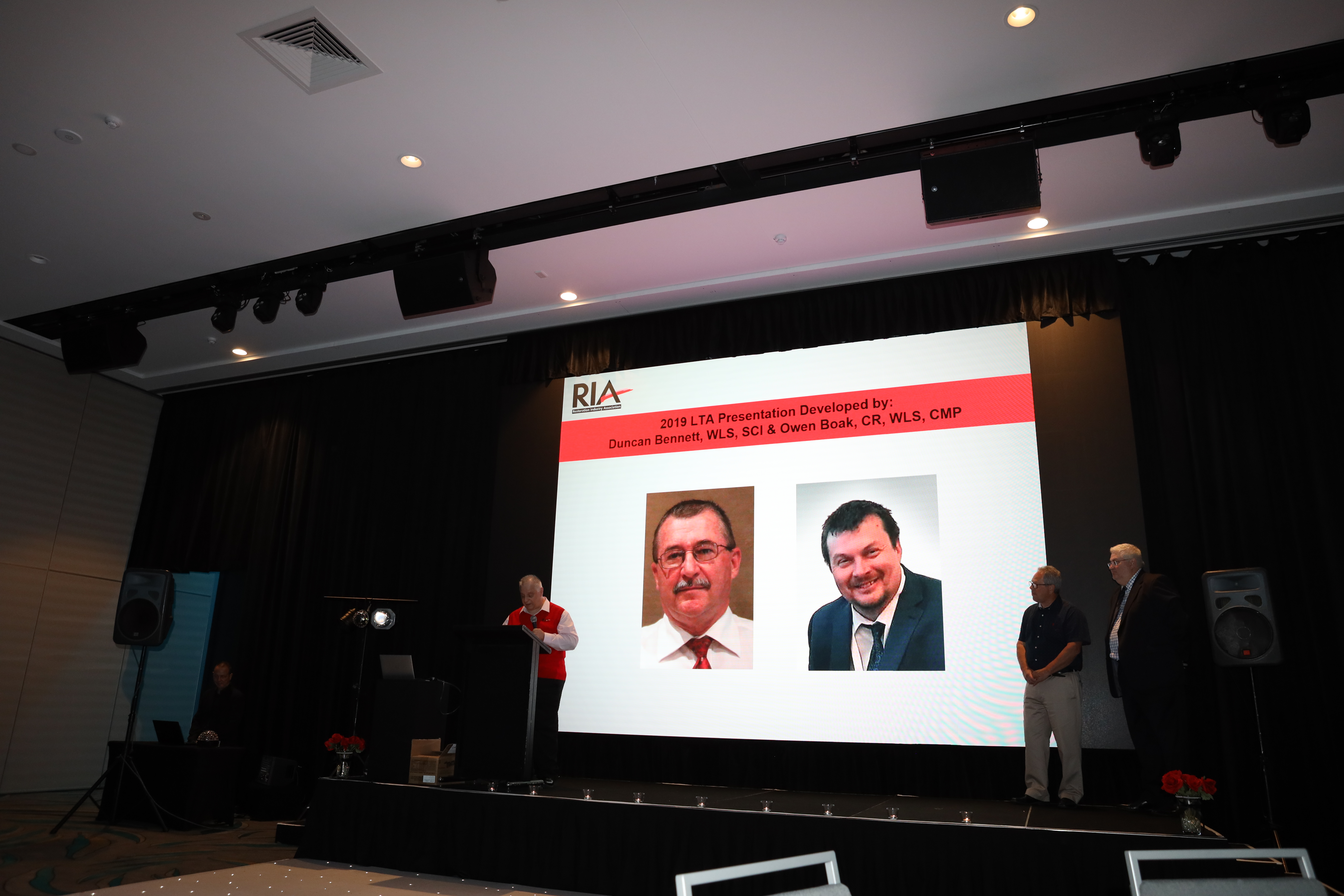 Pete Consigli introduces Owen Boak to the stage.
The LTA selection process and ceremony is modeled after the MLK award at future annual conferences with the previous year's recipient working with a special selection committee to determine the annual honoree. In 2019, council leadership secretly collaborated with Bennett to determine this year's recipient. Although Bennett was unable to attend the conference, Council Chair Owen Boak, CR, WLS, CMP, presented on his behalf.
In Duncan Bennett's Words
I would like to thank you all, and particularly, Owen and Pete, for letting me say a few words as inaugural recipient of the Australasian Lifetime Achievement Award.
Firstly, I would like to say what an honor it has been to receive this award, particularly so as it has been modeled on the prestigious Martin L. King Award given annually at RIA's North American convention since 1986.
Martin L. King is a prestigious name, and like the heroic human rights advocate, our Martin King, who was known as "Marty" to his friends and colleagues, also "had a dream." It is not without reason that Marty King is known as the first founding father of the restoration industry.
Marty was a gentleman. He was at home around a table, talking shop with a bunch of restorers, as he was in Mrs. Carnegie's drawing room discussing a priceless artifact. He was a wonderful role model who dignified our industry, and I am glad to have known him.
The award has been further enhanced by the caliber of the recipients over the years. I feel further honored by counting so many of these as personal friends, some of whom are here tonight.
I trust that, in time, the Australasian LTA award will become as prestigious within the restoration industry as the MLK award has become. Certainly, this year's recipient will bring his or her own honor and dignity to the award.
We went through considerable deliberation as we looked at numerous worthy candidates. However, there was one name that stood out, and when we considered this person, no further discussion was necessary. It was a goldilocks moment — "Just right!"
This year's recipient embodies so much of the Marty King spirit. This 2019 honoree is an innovator, a leader and a gentleman who commands our respect but who retains the common touch. We need men and women of this caliber in our industry.
It grieves me to see the antithesis of this where a certain element appears to be competing in a race to the bottom, chasing a dwindling paycheck, instead of reaching for the stars. I hate to insert such a negative thought, but it must be said. Do not be a follower; rather, carve your own way as this year's recipient has. I regret that I will not have the honor of passing on this award, but I am with you in spirit.
In closing, and before Owen tells you a little more about the 2019 LTA recipient before calling him to the podium, I would like to share a favorite quote of mine that I hope will inspire us all to reach for the stars in this new age of "advocacy," which appears to be a bubbling up movement within the restoration marketplace:
"Though much is taken, much abides; and though
We are not now that strength which in old days
Moved earth and heaven, that which we are, we are,
One equal temper of heroic hearts,
Made weak by time and fate, but strong in will
To strive, to seek, to find, and not to yield."
—Alfred Lord Tennyson, Ulysses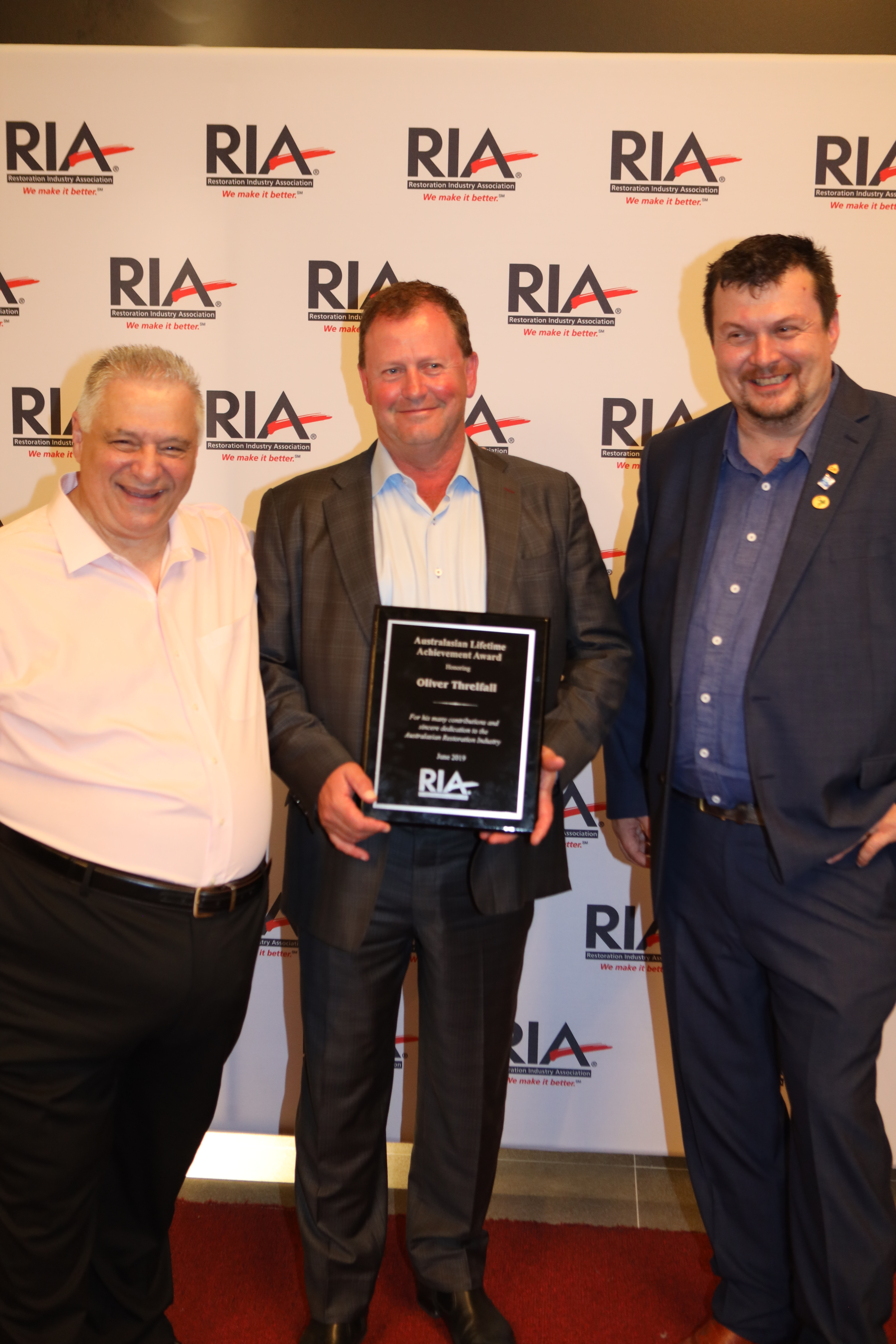 From left: Pete Consligi, Oliver Threlfall and Owen Boak.
In Owen Boak's Words
This year's honoree was born in England in the early 1960s, the youngest of three siblings. Our recipient immigrated to Australia in the mid-1960s with his family settling in South-East Melbourne. Our recipient attended private school on the Mornington Peninsula before graduating and commencing studies in marine biology in Geelong (which was never seen to completion, but a love of the ocean has remained with him throughout his life).
While studying, the recipient commenced working with the family of their next door neighbors as a holiday and part-time job, which happened to be in the carpet cleaning (and sometimes flood restoration) industry.
Some assessors who were friends with the incumbent's neighbor, and who had traveled to some industry events in the United States, recommended that they get involved with an international group and bring their methods and technology to Australia.
Needing a partner, their neighbors approached our incumbent's father to see if he would invest in this expansion, and together, they agreed to move forward and bring this new idea of "restoration" to the Australian marketplace. This was in the mid-1980s, and, in 1986, this brand was launched within the Australian insurance repair marketplace.
Part of the deal to invest in this new business saw our incumbent postpone his studies and become the operations manager with a team of one in the new business based out of a small factory in Windsor, Victoria.
Around this time, our incumbent met the love of his life while she was backpacking around Australia on holiday from the United Kingdom; they fell in love, and in 1988, he returned with her to the United Kingdom to marry. They would go on to have three sons, all of whom now are following in their father's footsteps in running the family business and sharing a love of the ocean.
In the late 1980s, the business really started to take off with the first franchise being sold in the Geelong area to the southwest of Melbourne, which was the first of many to be sold throughout the Australian marketplace.
Our incumbent has always been an innovator in the industry, bringing and adopting both new technology and ideas to the Australian marketplace, with this business being one of the first to adopt electronics restoration, dry ice blasting, freeze drying of media and books, desiccant technologies, restoration of structures using laser technologies and many other industry innovations introduced to the Australian marketplace.
Along with this, they have been a constant supporter of training both through the RIA, its predecessors in Australia (CUCA/NUCCA/SCRIA) and the IICRC training they have introduced into the Australian marketplace.
In more recent years, they also invested in creating an IICRC training school of their own. In fact, there are many people in the restoration industry today, including some very well-known names that owe their start in the industry to this business. The incumbent today heads up the largest restoration group in the Australian marketplace with over 35 franchises and company-owned operations in each of the major capital cities, with a network throughout all of the regional centers.
This year's LTA honoree is one of the key individuals who has, along with many others in this room, contributed heavily in supporting the growth and development of RIA in Australia.
By now, I'd suspect just about everyone has a pretty good idea of who this year's recipient is, and if all that has been said about him isn't enough, he has agreed to chair RIA's Australasian Council Advocacy Government Affairs (AGA) Committee.
Congratulations to our 2019 Lifetime Achievement Award recipient, Oliver Threlfall.
In Oliver Threlfall's Words
What do you feel is your biggest career accomplishment?
To be able to achieve a goal that we set some 20 years ago, to be the only truly national restoration company with company or franchised locations servicing our allocated works through response centers, rather than rely on subcontractors and agents. One company, one service level delivered and consistent delivery nationally.
What advice do you have for people starting out in the restoration industry?
Keep your delivery simple; deliver the service to your clients as if there was no third party involved (insurance). If you and your clients work this approach, then all parties will be satisfied with the outcome and the costs.
What is the most important life lesson you've learned through your time in the industry?
Communication is king — good or bad. If you make a mistake, own up to it and correct it. You can never over communicate with all the stakeholders involved in a claim.
What do you love about the Australian restoration industry?
That we take the world's best practices from around the world (Europe, North America and South America) and respect their experience but localize it to our market, which is different from other markets. Not all practices can be translated into our systems and policies.
Where do you hope the restoration industry will be in the next decade?
It is my sincere desire that the restoration industry is yet again respected as a trade through education, players retaining their standards and not working to a price. If the price is the clients'/insurers' biggest goal, then consider walking away, as there is always someone that will do it cheaper. I see the industry continuing to consolidate as technology and the costs associated with it make it increasingly hard for the mass of independents currently serving the markets.
Is there anyone you want to thank?
I wish to thank my family, my staff (current and past), my franchisees (that are considered family, and this term is used in all our interactions) and, of course, our customers. The whole industry relies on trust, and I am grateful that with limited exceptions, the Australian restoration industry is full of trustworthy players and individuals.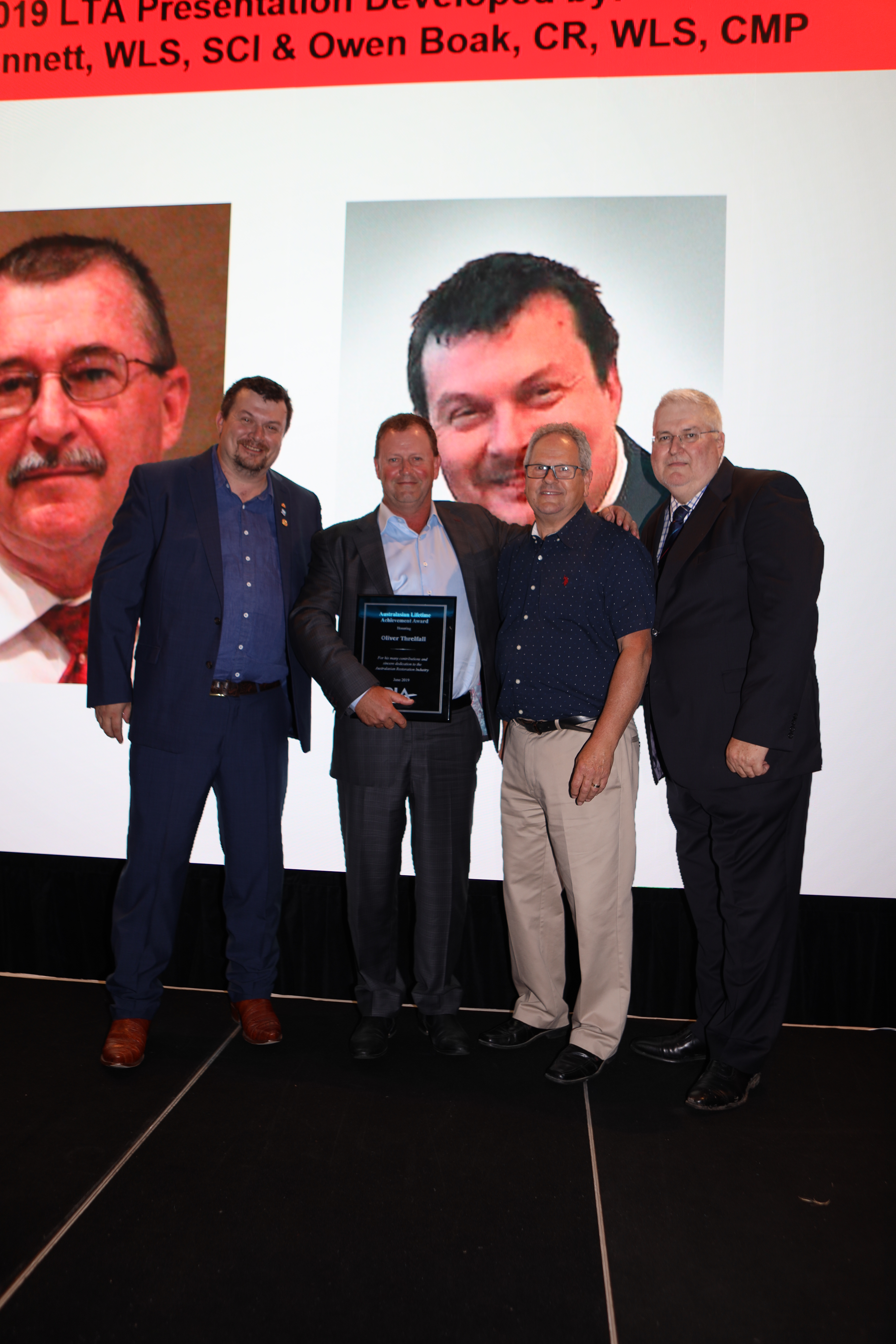 From left: Owen Boak, Oliver Threlfall, and past MLK Award recipients Art Johnson and Ashley Easterby.