How to Use Google Analytics with Your Small Business Website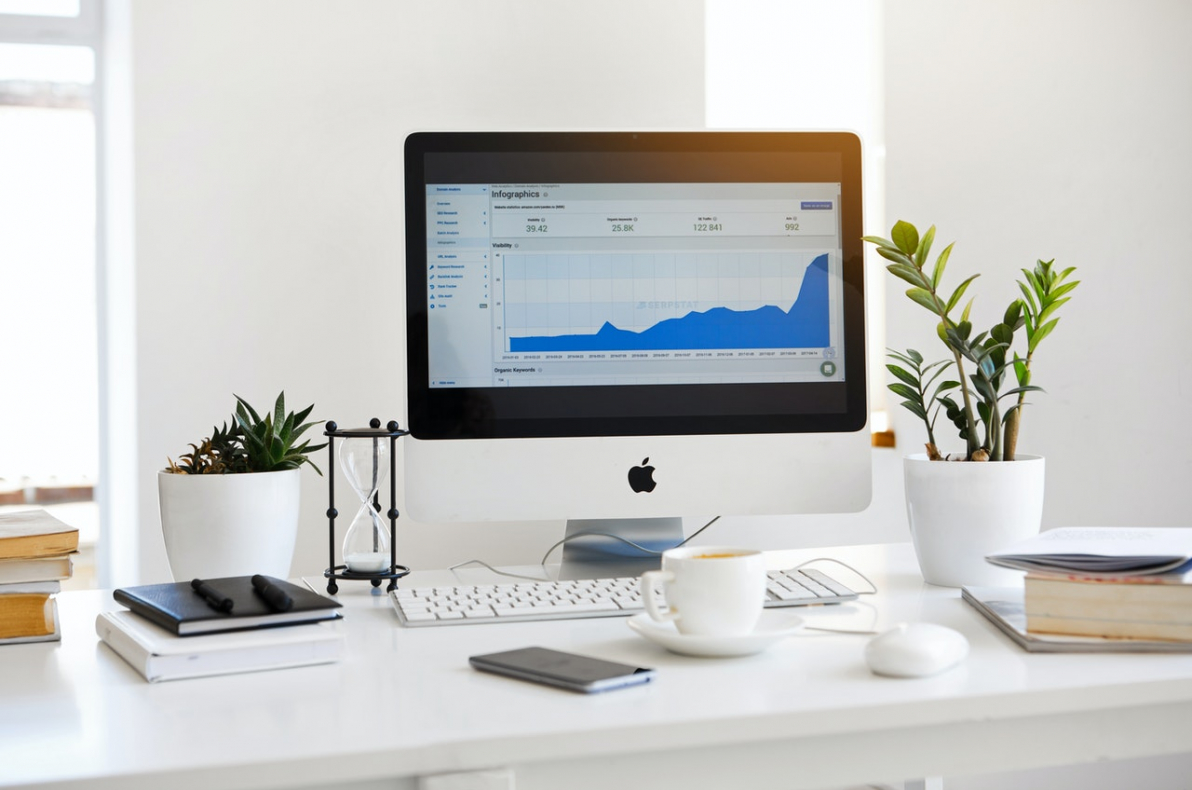 You have a website for a reason. You want it to improve your small business by generating leads, increasing brand awareness, or to sell your services online. But how do you know if your website is doing its job? And, more importantly, how do you optimize its performance?
A website is the first step towards building a digital presence to strengthen your small business, but websites are never perfect from the start. They require constant monitoring, adjusting, and strategizing to make sure they're constantly being improved. This is where digital analytics tools like Google Analytics come in. They help your small business understand exactly what is and isn't working, and which marketing channels are driving the most qualified traffic.
Read on for an overview of how to set up and monitor Google Analytics for your small business website and get tips on how to read reports and improve your site's overall performance.
What is Google Analytics?
Google Analytics is a free tool that tracks and gathers data from the people who visit your website. It answers three very important questions that can help you strategically improve your website and small business:
1. Who are the people visiting your website?
2. How did they get to your website?
3. What did they do (or not do) on your website?
How does Google Analytics Work?
Google Analytics uses a JavaScript code that collects and processes data that is then presented to you in the Google Analytics platform. A tracking code will collect anonymous information on how users interact with your small business website. It will tell you how many users visited a page, how long they were there, which pages they visited, and where they went next on your website.
The tracking code will also collect browser information like language, browser type (Chrome, Safari, Internet Explorer, etc.), device (desktop, mobile, or tablet), and traffic source (where/what the user clicked to access your website).
Reporting Using Google Analytics
Now that you have a better idea of what the tool is and how it works, let's go over how the data is organized, and how you can answer key questions about your website. Google Analytics breaks the data into five reporting categories.
1. Real-Time: What's happening on the website right now?
This category shows how many people are on your website right now, where they came from, and what content (which page) they're looking at.
There are two scenarios where this report can be useful. First, it shows you live website data, so you can use it to test and make sure analytics is working properly on a page. This is especially helpful when you have set up custom events (like clicks on a marketing email or a link shared on social media). Second, the report can track and possibly optimize the performance of short campaigns.
2. Audience: Who are the people that visit your website?
Audience reports give you information on the people who have visited your website. This includes demographic information about their age, gender, location, and language. Depending on your small business, you might want to look into different reports, but a common category every small business should monitor is the Mobile report.
The Mobile report will show you what percentage of your website visitors come from a mobile device, desktop, or tablet. Mobile device usage continues to grow, and for many websites, it's the device used the most to access them. This is crucial to monitor because people navigating the internet on a mobile device have different behaviors and objectives. They tend to be on the go and looking for information as easily and quickly as possible. If a big portion of your website traffic is coming from mobile devices, you should be thinking about ways to optimize your site specifically for those users.
3. Acquisition: How did people get to your website?
Google Analytics automatically groups the channels people used to get to your website into some generic categories. For example, if they used Google or Bing search to find a website, they'll be grouped into the Organic Search channel. If they arrived through a Facebook post, they'll be grouped into the Social channel. To find this report, click on Acquisition Category > All Traffic > Channels.
This report helps you understand what's driving people to your website, and the health of each channel. The number of people a channel drives to your website is not necessarily as important as the quality of people it drives. Not every channel will be good at the same thing. While one can be good at increasing brand awareness, the other may be better closing deals or generating leads. It's important to know and understand what your strategy and objectives for each channel are.
4. Behavior: What did people do on the website?
Within the behavior category, you'll see Site Content, where you can see the most popular content (pages) on your small business' website. Two reports that are helpful to understand what content people are most interested in are the Landing Page report and the All Pages Report.
Landing pages are the ones where people arrive at your website. You'll likely see your home page (/) as the page that receives the most traffic, but below that, you'll see others that give you an idea of what content is attracting people to the website.
This helps you see the popularity of the content. You can identify which pages are good at keeping people on the website—and driving them to additional pages—and which ones are not. This gives you the opportunity to improve popular landing pages that are not driving people further into the website.
The All Pages report will show you which pages get seen the most by people who visit your website. If you don't see some of your most important pages in this report, it's a cue to look for ways to improve the user experience (UX) and make the pages more prominent or relevant.
5. Conversions: Which goals did people complete on your website?
This report depends on the way you've set up your Google Analytics account. Goals (like requests for information, form completions, calls, or emails to your business, for example) and e-commerce (sales) require a more advanced setup. You'll need to tell Google Analytics what you consider to be the specific action you want to be completed (goal) on your website.
Setting up goals is crucial, as it will make it easier for you to see exactly what type of people, marketing channels, and online behaviors lead people to convert those specific goals you've set up.
Related: Why Potential Customers Leave Your Website
Quick Tips: How to Read Reports
The first thing to consider is the date range. Make sure your date range is set to the period you're trying to analyze. You'll find the date range in the top right corner of every report.
On the left-hand corner, you'll see the segments, which is automatically set up to show you all data but can be adjusted to include only the specific data you want. For example, if you want to look only at people who come from a specific city, you could build a new segment that only shows data from users in that location.
Below the date and segments, you'll see a timeline (based on your date range) with a blue line that shows how many Users (report dependent) visited your website per day, week, or month. This can be useful when looking over a longer period of time to understand traffic and seasonal trends.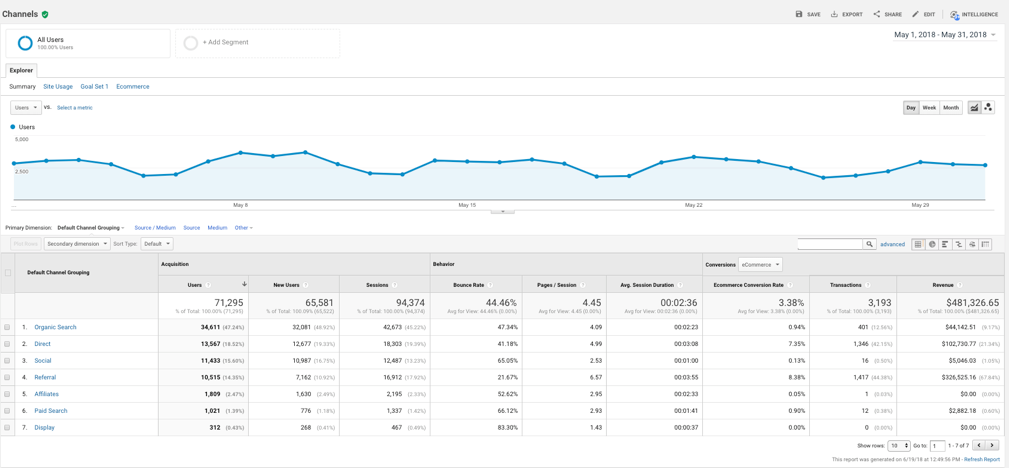 Finally, you'll see a table with a breakdown of data. Let's walk through these types of tables. 
All tables are broken down into a main dimension. This dimension is the first column of the data table. In the example below, the dimension is Default Channel Grouping, which we talked about above in the Acquisition report.
Each column after that will give you metrics that are relevant to this dimension. Next to each metric, there is a "?" that when hovered over will give you a definition of the metrics. The top row will have a summary of the aggregate data. 
Acquisition Metrics:
Users: Unique Individuals that visited the website.
New Users: New people to the website. 
Session: Number of times the website has been visited.
Behavior:
Bounce Rate: Percentage of single-page sessions in which there were no interactions with the page.
Pages/Session: The average number of pages people visit during a session.
Avg. Session Duration: The average amount of time people spent on the website during their session.
Conversions: 
Drop Down: You can use the drop-down to toggle between e-commerce and the goals you've set up on your website.
Ecommerce/Goal Conversion Rate: Percentage of sessions that resulted in a conversion (goal completion). 
Transactions/Goal Completions: Total number of transactions or goal completions.
Revenue/Goal Value: Total revenue generated or total goal value (depending on what value in dollar amounts you assign to your goals).

​
Determine What Matters Most for Your Business
You could spend many hours digging into data about your small business' website, but that shouldn't be the case.
Start by determining exactly what you're trying to accomplish with your website and each of its main pages and work back from these objectives to establish goals you can track. Once you know exactly what you're looking for, you can figure out a few key metrics and reports that will provide the answers you need to improve your site, your site's visitors' experiences, and your small business.