The RIA's 2022 International Convention + Industry Expo Breaks Attendance Records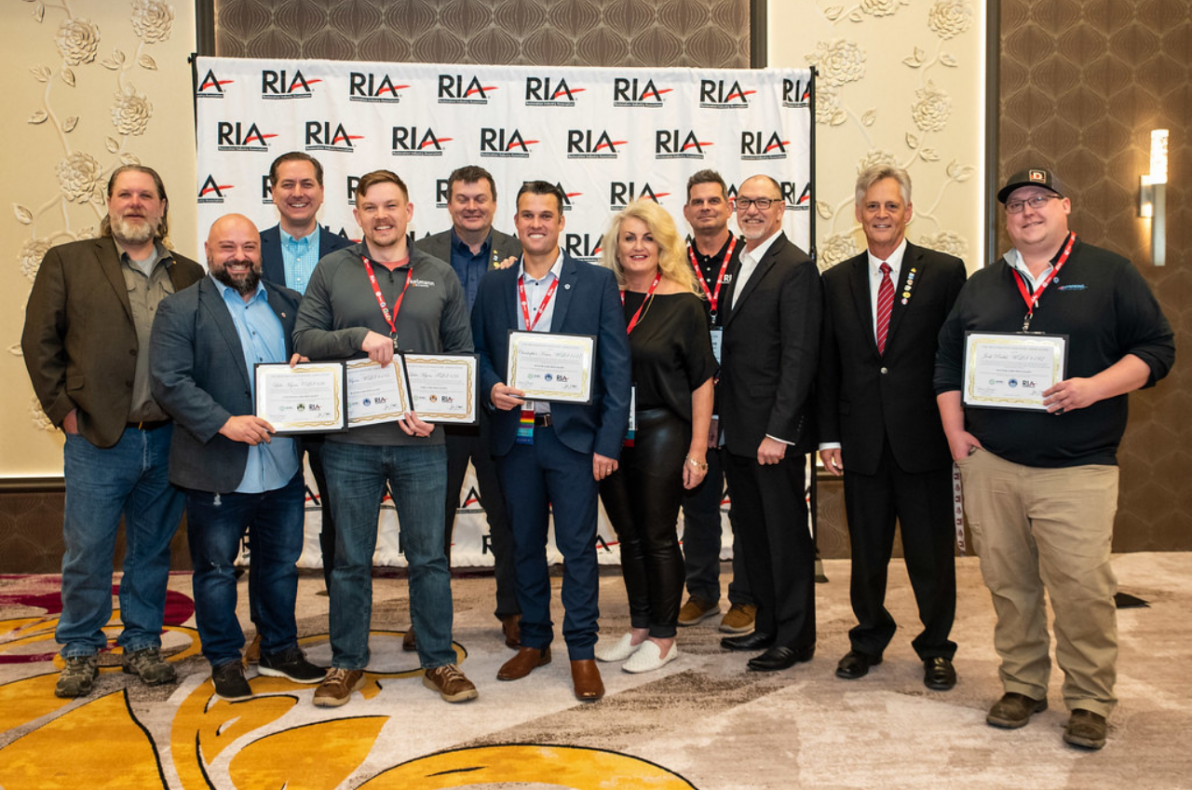 Restoration professionals came out in full force to share innovative approaches for continuing to move the industry forward
With more than 800 participants, the 2022 International Restoration Convention & Industry Expo of the Restoration Industry Association (RIA) had record-breaking attendance, which resulted in an exciting event filled with invigorating discussions about the industry, the chance to connect with vendors, and ample opportunity for everyone to catch up with their friends and colleagues.
Kelley Dolan, Chief of Staff to the CAO at FIRST ONSITE and Convention Planning Chair, led a team of enthusiastic volunteers who worked hard to make the event a success, and she was honored with the RIA's first-ever Volunteer of the Year Award.
"I want to send a huge thank-you to all the volunteers and all the members of the team. It is a lot of personal time that they devote to this, and it's greatly appreciated," Dolan said. "And I also want to thank our membership as a whole. This group reenergizes me and motivates me."
Attendees found motivation through the convention as well. "As a certified restorer through the RIA, I always find there are great educational and networking opportunities that I can take back and inform my team of potential changes in the industry," said Dan Morgan, Regional Manager, ATI.
The Advocacy and Government Affairs Committee (AGA) Emphasizes Communication
The AGA continues to make progress in opening the lines of communication between restorers, software providers, Third Party Administrators (TPAs), and Third Party Consultants (TPCs). Some of this work is through position statements and TPA surveys, and some of it takes other forms, as it did at this year's event. The pair of AGA Academy sessions — an Xactimate Q&A and a Claims Connect (formerly Symbility) Q&A — drew a lot of interest from attendees as the industry continues to work toward presenting a unified front regarding pricing.
"Addressing the friction of the industry in front of a burdened crowd is not easy, and at the Xactimate Q&A, Mike Fulton and Mark Whatley did a great job onstage to inspire confidence that Verisk cares about the contractor side of the property insurance industry," said Seth Harrison, Executive Director, Actionable Insights. "The RIA continues to be a driving force for restoration contractors in the industry and their efforts to advocate and demand accountability are more important than ever before."
Sessions to Meet the Needs of Today's Restoration Industry
The planning committee begins its work on building the program schedule about a year in advance, so they strive for a balance of tackling topics of current interest and providing a new perspective on those topics. Feedback from previous meetings also helps inform the committee's decisions about what to schedule for future events. Members had enthusiastic feedback about the sessions that were selected for this year. Here are some of the highlights:
Control Your Attention, Control Your Life! Attention Management is the New Path to Productivity, presented by Maura Thomas: "My company has really taken hold of and used what we learned from this session on how to prevent distractions in the workplace. It's pretty mind-blowing how often those little things just get you and take your attention away from what you're supposed to be doing, not to mention how many of those things can actually wait." — Logan Hoge, Supervisor, Buffalo Restoration
Dynamic Recruiting & Retention for Restoration, presented by Ashlee Hofberger: "Ashlee's session was probably the most informative and pertinent to where the industry is at right now — we're a manual labor industry in a rapidly shrinking labor market. I have eight open manual labor positions. My company tries to be employee-centric, but the way she positioned onboarding and really building an atmosphere where employees want to be was a huge takeaway for me. We are looking to revamp how to bring on a new employee. She was very touchy-feely and inclusive, and I need to be better at that, and our company and our process need to be better at that." — Nathan Pitney, General Manager, TCM Restoration & Cleaning
Real or Pretend Margins?, presented by Ben Justesen: "This presentation was a highlight for me. Ben went over some things my company had been trying to figure out on our own, and it was helpful that it tied into the position statements. Ben showed us how to communicate our actual costs to Xactimate. Because of inflation, our costs have increased, and it has been a struggle to get insurance companies to keep up. It can feel like we're fighting to just not lose money, but I came away with tools to help our company push back and stay profitable." — Rebecca Jones, Bookkeeper, EC Construction
A Visit to the Exhibit Hall
The opportunity for restorers and vendors to converge in the exhibit hall is always a major draw, and this year's convention was no different. With 95 exhibiting companies and 111 exhibit booths, the exhibit hall was a one-stop shop for the industry's best equipment, products, and services.
"I went to the convention knowing I wanted to learn about new products and new innovations within the industry, and the vendors on the showroom floor were very helpful. I think they came prepared to educate rather than just sell. That was a value add that I really appreciated," said Nathan Pitney, General Manager, TCM Restoration & Cleaning.
The vendors themselves are a vital element of both the industry and the convention, and many commented that this year's event was one of the RIA's best.
"Sunbelt is fully committed to the support of the restoration industry, and it has been supporting the RIA for over 17 years. RIA provides us the opportunity to meet with a large group of diverse customers in the restoration space," said David Drinard, National Strategic Customer Manager, Sunbelt Rentals, Inc. "We always sign up new customers, build on existing relationships, and enjoy the opportunity to network and meet with new restoration contractors at the RIA show."
Vendors also took time away from the exhibit hall to enjoy some of the offerings from the slate of sessions. 
"I enjoyed meeting new people at this year's convention and gaining valuable new insights into our ever-changing industry. Listening to views from industry leaders at the town hall meetings about the state of the industry is always worthy of our time," said Michael Hosto, Director of Culture and Leadership for 1-800-BOARDUP. "And I am obsessed with creating a culture that attracts and retains high-performance people, so I was excited to hear the high-level perspectives and practical ideas at the Dynamic Recruiting & Retention for Restoration session." 
 
Both Drinard and Hosto were able to walk away from the convention with not just new knowledge and new connections, but new business — just another sign that the convention is beneficial to every aspect of the restoration industry.
Looking Forward to 2023
The dust from the 2022 convention hasn't quite settled, but plans for next year's event are already in motion. The Convention Planning Committee has begun exploring session ideas and hopes to send another survey out soon to begin narrowing down what will be of most interest to attendees the next time around. Dolan is looking forward to another strong showing in 2023. 
"The people in the restoration industry are an awesome group of humans," Dolan said. "It's lovely to be part of a huge, global industry of people who love spending time together, are incredibly passionate about what they do, and want to ensure they provide pleasurable working environments for their staff."
Save the Date!
The RIA 2023 International Convention + Industry Expo
April 24-26, 2023
Rosen Shingle Creek
9939 Universal Blvd.
Orlando, Florida 32819
For information about Exhibitor & Sponsor opportunities,
contact Amanda Bray, Industry Relations
at exhibits.ria@ahint.com or 856-437-4750.