RIA's Annual Expo Continues to Drive Unity in the Restoration Industry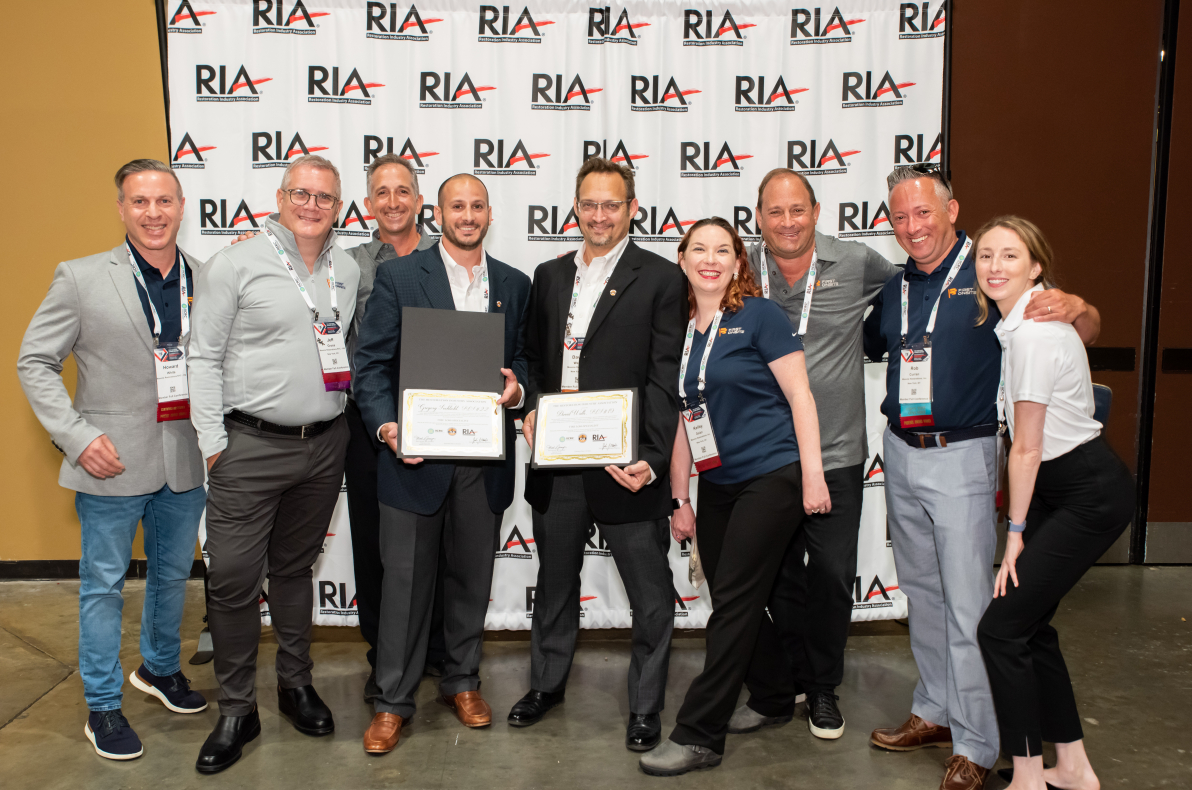 The Expo returned with great enthusiasm and focus while building toward the future.
The Restoration Industry Association (RIA) prides itself on unity. And as the world normalizes after the COVID-19 pandemic, the RIA couldn't wait to hold its 75th Restoration Convention & Industry Expo. For the RIA, it wasn't just a celebration of their core values, but a chance to bring something completely new to the table.
"It was really a celebration of what we've accomplished," said Kelley Dolan, Chief of Staff at Maxons Restorations and Annual Convention Planning Chair. "And also, a peek into what we need to keep working on together."
RIA Stands for Unity
The RIA held the Expo as a hybrid event, meaning it hosted both in-person and virtual attendees. For those in-person, event planners were mindful of safety measures to limit attendee movement around the venue.
The Expo kicked off with a Town Hall session, hosted by RIA President Mark Springer, CR, who discussed the RIA's response to the pandemic, the work being done on behalf of restorers, and updates on its Advocacy and Government Affairs Committee (AGA), the first of its kind in the restoration industry. The session highlighted how much work the RIA has accomplished in the last 2 years and the strength of the association's efforts to unify the industry.
"If you've been a member of the RIA and said, 'You know what, this organization isn't doing anything, peace out,' now's the time to come back," Dolan said. "Because now's the time when things are happening."
AGA Handles Hot Topics
A united front, particularly for restoration contractors, is incredibly important because as stated by Katie Smith, President-Elect, "there are thousands of contractors, but we don't have thousands of problems, we have the same major headaches."  
Enter AGA. Since its inception, AGA has formed three task forces to create a shared stance for the industry, developed videos on pricing, positions statements related to Third Party Administrators (TPAs), and even the TPA Scorecard. (All resources available exclusively for RIA members.)
It is the peak of the RIA's stance on unity. And for the first time, AGA presented its first session of the new "AGA Academy" aimed to teach attendees how to advocate for themselves and incorporate AGA tools into their business.
The Academy session focused on the Law of Assignment of Benefits and Insurance Bad Faith and debuted RIA's newly released AOB and Insurance Bad Faith 50-State Reference Guide.
AGA Academy focuses on important topics including pricing, Third Party Administrators (TPAs) and Third Party Consultants (TPCs). "We are teaching the industry how to handle a situation when you're up against a moment or an opportunity where an outside party is trying to control either your work or your price when they have no business doing so," Dolan said.
For example, according to President-Elect Katie Smith, CR, TPCs can affect timelines for when contractors are paid. TPCs require justification and documentation for all contractor decisions, which overall delays the process of contractor payment, even if a project has already been completed.
"We're focused on, how do we stand up for ourselves?" Dolan said. "How do we point out the problems with the responses we're getting? And how do we do so in a way where we are united?"
Prerequisite Training
In addition to the expo content, RIA hosted prerequisite classes on project management and building science.
"We as a committee thought it was really important to host those hard-to-get classes up in front of this convention," Dolan said. "The goal was to not only give project managers a training opportunity, but to have that next generation of leaders be able to meet each other."
Virtual Attendees and the Future
Unity doesn't extend to just in-person attendees, but all RIA members. To accommodate contractors who were not able to travel and attend in person, the expo was offered as a livestream option. The virtual format was a great success.
"I think next year, we'll look at doing a little bit of both," Dolan said.
Regardless of how RIA presents its Expo, its goals will remain the same. And those goals will carry them toward the future.
"I do hope (attendees) take away that the RIA is a committed, responsible, and change-making organization, and that the RIA is working for our industry in order to provide help and make us all that much more successful," Dolan said.
Read RIA Assignment of Benefits and Insurance Bad Faith Law – 50-State Reference Guide, FREE for all RIA members. The guide goes into detail about the law of assignments and underutilization of assignments using excerpts of cases and statutes from each state.