Contractor Membership
Open to any company whose primary activity is directly providing services involving the restoration, cleaning, mitigation, reconstruction, remediation, abatement, environmental or similar services to the built environment or its contents. RIA contractor members can now select the appropriate membership level based on their company's annual revenue.
Membership Levels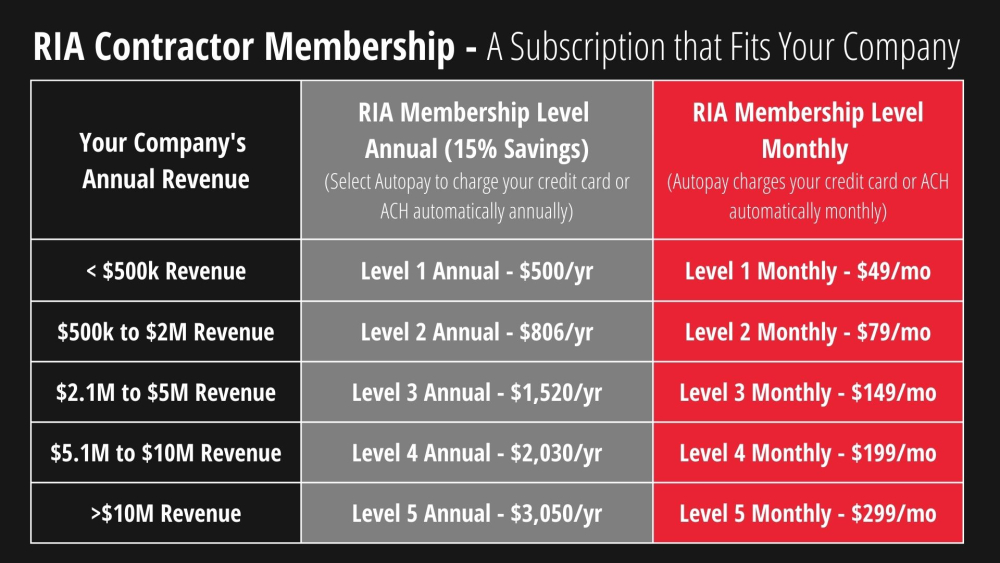 Payment Options
RIA membership is now easier than ever. Simply select the payment option that works best for you below to become an RIA member today!
---
Annual Subscription (15% savings)
Annual dues payments can be invoiced on an annual basis or you can select AutoPay to automatically have your dues charged to your credit card/ACH on an annual basis. No need to worry about missing a renewal email or invoice! Members who pay annual dues receive a 15% discount on their dues amount.
Join Now with Annual Subscription
Monthly Subscription
Monthly dues payments will be charged automatically to your credit card/ACH on a monthly basis. No need to worry about missing a renewal email or invoice!
Join Now with Monthly Subscription
---
Important Note Regarding Membership Dues
The RIA membership dues period is January – December. Your first year of dues will be automatically prorated based on the month in which you join. For example, if you join in October 2022, you will pay prorated dues through December 2022 and will then pay the full amount in year two (January – December 2023). RIA membership dues are nonrefundable and nontransferable. All payments must be made in USD.
---
Branch Locations
If your company has additional locations providing services related to restoration, you can add memberships for those additional branch locations. Branch locations have full access to RIA membership benefits, including listing in the RIA Find a Professional Directory.
| | | |
| --- | --- | --- |
| # of Branch Locations | RIA Monthly Dues | RIA Annual Dues |
| 2 or less | $39/month/per branch | $468/annual/per branch |
| 3 or more | $25/month/per branch | $299/annual/per branch |
During the application process, simply enter the number of branch locations that you are adding to your membership and those dues will be automatically added to your dues payment.
---
Questions?

Contact the RIA's Membership Coordinator at info@restorationindustry.org or 856-439-9222.