Restoration Industry Certified Restorer (CR)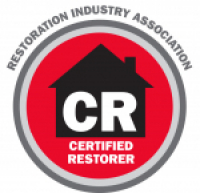 The Restoration Industry Association(RIA)'s capstone certification, the Certified Restorer (CR) is the penultimate achievement in comprehensive restoration, project management and consulting mastery. This three-day program is geared towards advanced restoration professionals seeking to establish their in-depth expertise of leadership and insurance damage related restoration business management acumen.
The RIA CR Curriculum is built upon its four restoration pillars – water, fire, environmental, and contents. Learn from experts and network with peers to both grow a profitable and productive restoration company, as well as set the foundation for a strong industry related consulting career.
The learning experience extends beyond the classroom program, as candidates for the CR capstone certification complete a comprehensive final exam onsite during the last day of class and a formal report within 180 days of the course, definitively establishing their mastery of the subject of structural and contents restoration. 
Step 1: Meet Pre-Qualifying Requirements (Education & Work Experience)


 
High school diploma or equivalent education
5 years of verifiable work experience or three years of supervisory experience
(Experience can include: restoration worker, project supervisor, estimator, consultant, inspector, restoration company manager, facility manager, restoration instructor)
Step 2: Complete Restoration Prerequisite Courses
To be eligible to take the CR Prep Course and sit for the exam, you must complete course requirements within each of the following domains. A certificate of completion will be required as verification that each domain requirement has been satisfied.
Domain

Restoration Prerequisite Course Options

Domain #1
Basic Skills in Fire, Smoke & Water Damage Restoration

(Both courses must be taken)

Domain #2
Structural Restoration 

RIA Building Science Workshop or Building Science Corporation 2-day seminar (April 2022)

(Pick one course)

Domain #3
Contents Restoration 

(Pick one course)

Domain #4
Health & Safety Training

(Minimum of 12 contact hours)

Domain #5
Project Management

RIA Project & Risk Management Course (April 2022)  or RIA-approved Project Management course or industry equivalent
Step 3: Take CR Training Course and Exam
Register for the next CR course and exam. Be prepared to upload the following documents with your application:
Resume

Letter of Recommendation (from immediate Supervisor)

Certificate of completion for each domain of prerequisite courses
This is the final course for those pursuing their RIA capstone certification, the Certified Restorer (CR), and incorporates lectures, specialized presentations from subject matter experts in their field, case studies and group study work.
Step 4: Complete CR Formal Report
Bring a draft of your Formal Report to the CR Prep Course and receive immediate guidance and advice. Finalize your Formal Report within 180 days of completing the course.
Reference Documents