RIA 2022: Year in Review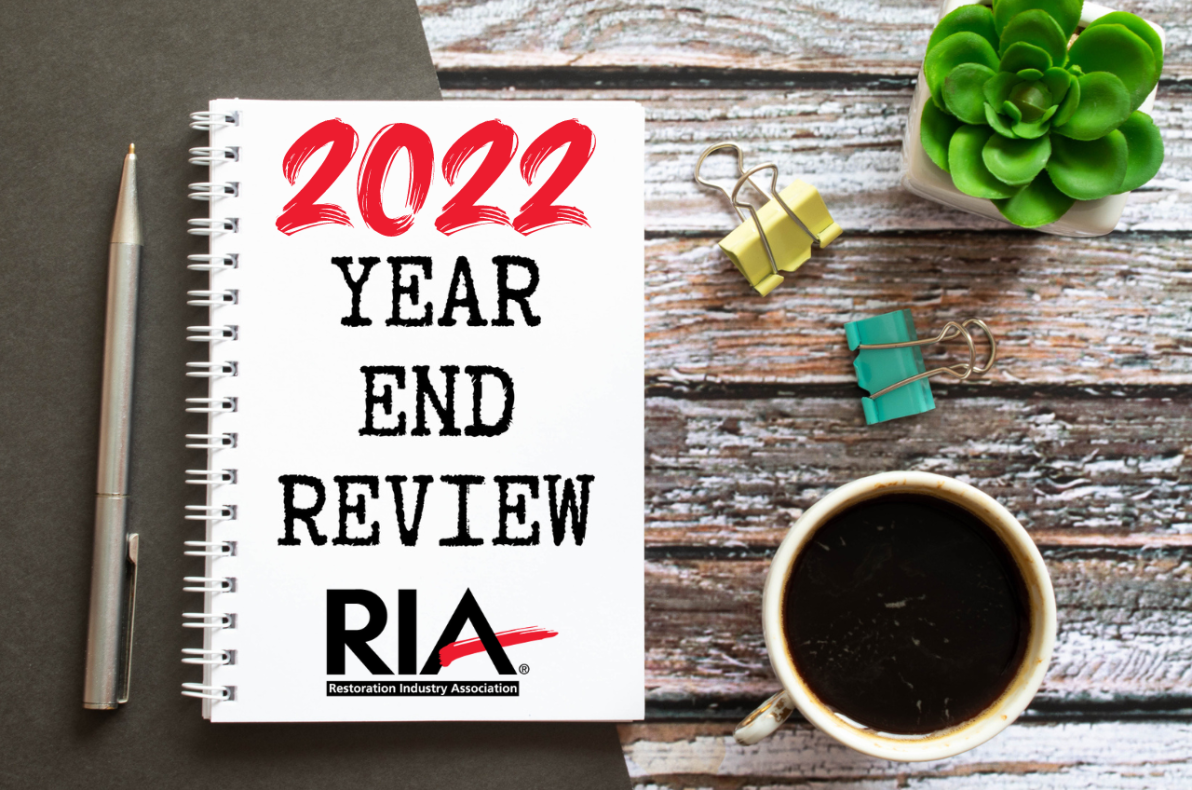 As we wind down 2022, we are taking a look back at the Restoration Industry Association's (RIA) great strides this year to unify the industry's cleaning and restoration professionals, collaborate with peers and partners, and offer robust resources and tools to help our members complete their work as effectively, efficiently and profitably as possible.
Our mission to educate, elevate and advocate for restoration contractors has been significantly bolstered by the RIA's Advocacy and Government Affairs (AGA) Committee since its inception in 2019. The committee has led initiatives and realized meaningful change and progress that strengthens the industry and provides our members with valuable resources to help them navigate the complex pricing and uncertain environments that restoration and cleaning professionals encounter all too often.
A Banner Year for Advocacy and Government Affairs
The AGA Committee's accomplishments in 2022 were significant. With a well-defined, strategic vision in place, we have made great progress in many of our areas of focus. From offering best-in-class member resources that aid in efforts to help restorers get paid to advocacy and legislative efforts and much more, we are thrilled with the progress and advancements the AGA has made to ensure that restoration contractors around the world have the knowledge, support and access they need to be successful in their business.
Over the past year, the RIA Advocacy and Government Affairs Committee's accomplishments include:
The AGA Committee researches and assembles peer-reviewed position statements for our members to use on issues commonly encountered by restoration contractors. Position Statements are designed to help restorers communicate unified messages that have industry and third-party consensus to yield improved negotiations in contentious situations. The new position statements released this year were:
The AGA Committee released a new video by Restoration Advocate Ed Cross on how to utilize the position statements. Members also shared success stories on their use of the RIA's position statements at this year's RIA International Restoration Convention & Industry Expo Town Hall.
"I utilize the pricing position papers all the time, perhaps daily. We make our own prices and we justify it every day on all our jobs–we utilize the position statements for that. I was also part of an appraisal process for another contractor and the carrier wanted to use a new construction price list. We were able to successfully fight that. In fact, the appraisal went for even more than what the contractor was asking for." Ben Justesen
"I really want to thank the committee for providing restorers with resources they can use to successfully advocate for themselves and navigate the claims process " Frank Mirabelli
Get all the resources you need in one place! The new AGA Academy is a members-only, online portal that includes a robust offering of educational videos and position statements on Third Party Administrators (TPA), Third Party Consultants (TPC), estimating, and more. Enjoy on-demand access to the AGA Academy as an RIA member!
We were pleased to host four RIA AGA networking events in 2022 in: Baton Rouge, Louisiana; East Dundee, Illinois; Bel Air, Maryland; and Doral, Florida.
These regional events encourage restorers to connect, network, discuss the challenges and important issues impacting business. They also feature an update from RIA's Restoration Advocate, Ed Cross, on the advocacy efforts on behalf of restorers. A recent attendee called it, "One of the most meaningful events I attended this year!" Check our website regularly for upcoming networking events.
The AGA conducted its second TPA Scoring Survey giving contractors the opportunity to rate Third Party Administrator programs across various indicators such as program fees, services, geographic coverage, job volume and more.  
Results of this anonymous survey will be compiled and published in a TPA Scorecard Report. They will be used to encourage ongoing conversations between contractors and TPAs and to advocate for suggested improvements. 
This year, the RIA announced the launch of the Advocacy & Government Affairs (AGA) Canada Committee. This new committee supports the RIA's mission and strategic vision of unity by advocating for the best interests of industry contractors across Canada and working collaboratively and fairly with all stakeholders involved in the claims process
New Videos on Effective Third Party Pricing Software Utilization
The AGA Committee also released several new educational videos to help restorers effectively utilize third party pricing software:
Advocacy Efforts with Verisk
The RIA AGA Committee engaged in advocacy with Verisk to update Xactimate pricing data to reflect current market conditions and provided feedback on the Verisk Annual Property Report. Restorers' concerns were also discussed directly with Mike Fulton, President of Verisk Property Estimating Solutions, at the 2022 RIA International Restoration Convention & Industry Expo.
As a result of RIA AGA Committee's advocacy, Verisk also released its new pricing field specialist class, with the goal of having a pricing specialist in every market. 
Advocacy Efforts Regarding Claims Connect®
The RIA AGA Committee held conversations with Garret Gray, President of CoreLogic Protect, at the 2022 International Restoration Convention & Industry Expo to provide additional information to restorers about the pricing platform.
The RIA's AGA Legislative Task Force was created to identify and proactively monitor important legislative and regulatory issues that may impact restorers. They are responsible for developing positions on legislation and mobilizing restorers around these issues. Their current focus includes:
Emergency temporary exemptions from mold and other licensing requirements during catastrophic events for out-of-state restorers

Expansion of–or changes to–consumer protection/home improvement laws or regulations

Changes in laws or regulations that impact contractual arrangements or rights between restorers and their customers

Changes in state insurance laws or regulations

Changes in general contractor laws or regulations
What's in Store for 2023
As we look forward to the new year, we are guided by a spirit of unity and a renewed sense of purpose to expand our best-in-class member resources and advance our advocacy and legislative efforts. We will continue to advocate for equitable and smooth claims pro­cesses and transparent communications for restoration contractors, so they can focus on getting the work done for their customers and realizing a profitable business.
Join the RIA!
First time Contractor Members, or those whose membership has lapsed for three years or more, can now join the RIA for a special rate. For just $25 per month, first time Contractor Members will have access to a network of industry peers and expertise, advocacy resources and position statements to help you get paid, the industry's best training for professional development and certification, and discounts on products and services.