Restoration Industry Association Contents Loss Specialist (CLS) Certification Program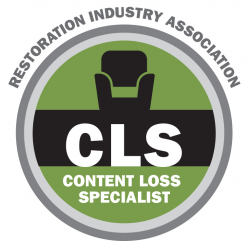 RIA's new Contents Loss Specialist Advanced Certification Program is one of the four pillars of the enhanced Certified Restorer (CR) program. 
The course assists Contents Restoration Specialists across the country and internationally. A training program that is not only top of the line as far as content, but also brings a systematic approach to the way contents are dealt with in general.
This program is recognized by insurance companies across the country as the best of its kind. 
Be sure to review our CLS Candidates guide for exam info, formal report requirements, FAQ's and more!
Download the CLS Candidates Guide
Step 1: Meet Pre-Qualifying Requirements (Education & Work Experience)
High school diploma or equivalent education 
Training school that teaches courses similar to contents and restoration
Five years of verifiable work experience or three years verifiable supervisory experience, project supervisor, estimator, consultant, inspector, restoration company manager, facility manager, restoration instructor. 
Step 2: Complete the Content Loss Specialist Prerequisite Courses
To be eligible to take the Content Loss S Prep Course and sit for the exam, you must complete prerequisite course requirements in each of the following domains. A certificate of completion will be required as verification that each domain requirement has been satisfied. Candidates will have until before the pinning ceremony on June 28, 2021 (at the RIA 2021 Convention) to complete the required prerequisites in order to become certified.
Domain

Prerequisite Course

Domain #1
Basic Skills in Contents Restoration
(minimum of 18 contact hours) 

RIA Certified Restorer (CR) Certification Prep Course

Domain #2
Hands On Restoration Training
(minimum 48 contact hours)

Any of the the following IICRC Courses:

Contents pack-out course (certificate required)
Contents inventory course (certificate required) 

Domain #3
Health and Safety
(minimum 12 contact hours)

Other OSHA/Red Cross training equivalent (PPE, Respiratory Training, Confined Space, Lock-Out/TagOut, Bloodborne Pathogens, Fall Protection, etc.

Domain #4
Project Management  and  Commercial  Contents
(minimum 18 contact hours) 

Domain #5
Building Science

No specific study required for this domain 

Domain #6
Microbial Remediation
(minimum 7 contact hours)

Domain #7
Textiles
(minimum 12 contact hours)

Dry cleaning course (certificate required)
Soft goods cleaning course (certificate required)

Domain #8
Specialty Contents Restoration
(minimum 12 contact hours)

Art restoration (certificate required)
Furniture refinishing (certificate required)
Electronics cleaning course (certificate required)
Step 3: Take the CLS Prep Course and Exam
Register for the next CLS course and exam. Be prepared to upload the following documents with your application:
Resume
Letter of Recommendation (from immediate Supervisor)
Certificate of completion for each domain of prerequisite courses
This is the final course for those pursuing their RIA advanced certification, the Contents Loss Specialist, and incorporates lectures, specialized presentations from subject matter experts in their field, case studies and group study work.
Step 4: Complete the Content Loss Specialist Formal Report
Bring a draft of your Formal Report to the CLS Course and receive immediate guidance and advice. Finalize your Formal Report within 180 days of completing the course. 
Restoration Content Loss Reference Documents