RIA Contents Loss Specialist (CLS) Advanced Designation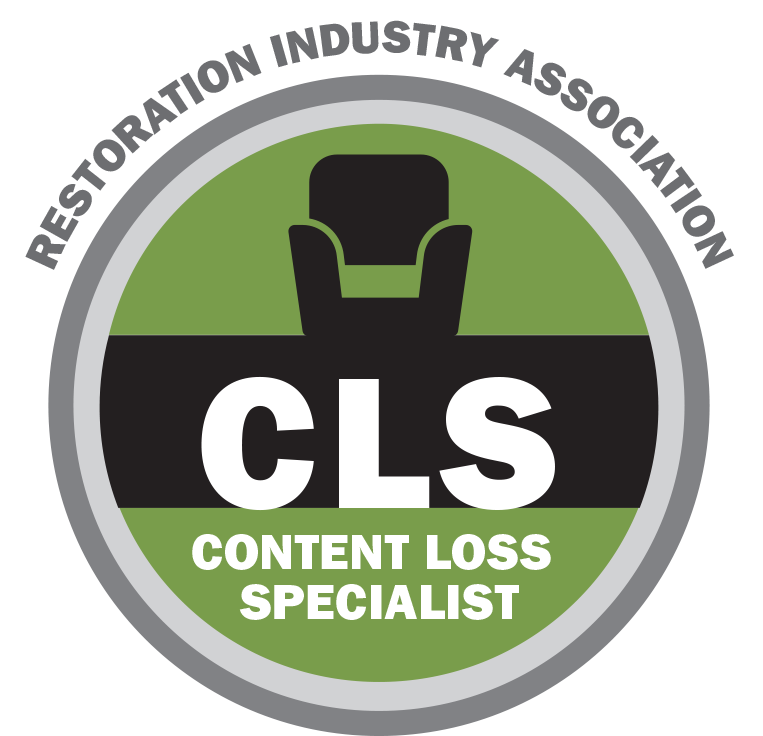 RIA's Contents Loss Specialist Advanced Pillar Designation is one of the four advanced pillar designations of the enhanced Certified Restorer (CR) program. The CLS designation is for those individuals who wish to advance their career and become a recognized subject matter expert in this field.
This course provides a comprehensive approach to contents loss including perils impacting contents, critical business practices, pack-out/pack-back best practices, cleaning methods, structuring your company for contents restoration, health and safety, specialty contents and contents in commercial losses. The course content is delivered by industry experts and provides a systematic approach to contents.
With the completion of this 3-day course, you will be granted 19.5 CEC credits. 
---
Upcoming CLS Course
 
Date
2023 Course Dates Coming Soon!

Time

8:00 am - 5:00 pm
Delivery Method
In-Person & Online Via Zoom
Location
TBD
CE Credits
19.5
Course Fee

$1540 - RIA Member
$1855 - Nonmember

Breakfast & Lunch provided for all (3) days of instruction

Exam Fee
A separate $250 exam fee will apply. Prior to taking the CLS Training Course, you will need to register for the CLS exam through the IICRC. You will receive additional information to register for the exam after completing the training course registration.
Cancellation Policy
The training course availability is limited to 30 attendees. Please be sure you are available to attend when registering. Cancellations must be made in writing and emailed to info@restorationindustry.org. Cancellations received less than 30 days prior to event start date will not be granted a refund. Cancellations received 30 days prior to the event start date will be granted a full refund minus a $100 administrative fee. Course registration can be transferred to another individual from the same company at least two weeks in advance of the event start date. Transfers will not be accepted within two weeks of the event start date. In the unlikely event, the training course must be canceled or rescheduled, RIA will contact you to register you in a comparable program.
Instructors
 

Lori Young, CR, CLS

Art Johnson, CR, WLS,CLS

BIO
---
How to Become CLS Certified
 
Step 1: Meet Pre-Qualifying Requirements (Education & Work Experience)
High school diploma or equivalent education 
Training school that teaches courses similar to contents and restoration
Five years of verifiable work experience or three years verifiable supervisory experience, project supervisor, estimator, consultant, inspector, restoration company manager, facility manager, restoration instructor. 
Step 2: Complete the Content Loss Specialist Prerequisite Courses
 
To be eligible to receive the CLS certification, candidates must complete the prerequisite requirements in each of the following domains. A certificate of completion will be required as verification that each domain requirement has been satisfied. All candidates have 30 days prior to the course to complete the required prerequisites.
Domain

Prerequisite Course

Domain #1
Basic Skills in Contents Restoration
(minimum of 17 contact hours) 

RIA Contents Science and Theory (Mandatory Requirement -- 5 contact hours)
Contents pack-out course (certificate required)
Contents inventory course (certificate required) 
Or any Contents Related qualifying CEC course

Domain #2
Restoration Training
(minimum 24 contact hours)

Any of the following IICRC Courses:

Domain #3
Health and Safety
(minimum 12 contact hours)

Domain #4
Project Management  and  Commercial  Contents
(minimum 14 contact hours) 

Domain #5
Building Science

No specific study required for this domain 

Domain #6
Microbial Remediation
(minimum 14 contact hours)

Domain #7
Textiles
(minimum 12 contact hours)

Dry cleaning course (certificate required)
Soft goods cleaning course (certificate required)

Carpet Cleaning Technician Course (CCT) 
Step 3: Take the CLS Prep Course and Exam
Register for the next CLS course and exam. Be prepared to upload the following documents with your application:
Resume
Letter of Recommendation (from immediate Supervisor)
Certificate of completion for each domain of prerequisite courses
This is the final course for those pursuing the RIA advanced pillar designation, the Contents Loss Specialist, and incorporates lectures, specialized presentations from subject matter experts in their field, case studies and group study work.
Step 4: Complete the Content Loss Specialist Formal Report
Upon passing the CLS exam, candidates must submit the CLS Formal Report within 180 days of completing the course. Once the CLS Formal Report is approved, candidates will then receive their CLS designation and be eligible to be pinned at the RIA Convention Pinning Ceremony.
Restoration Content Loss Reference Documents
Questions?
Contact Colleen Duran, COO at cduran@restorationindustry.org.