The RIA's Contents Loss Specialist Certification Program Helps Restorers Stand Out from the Crowd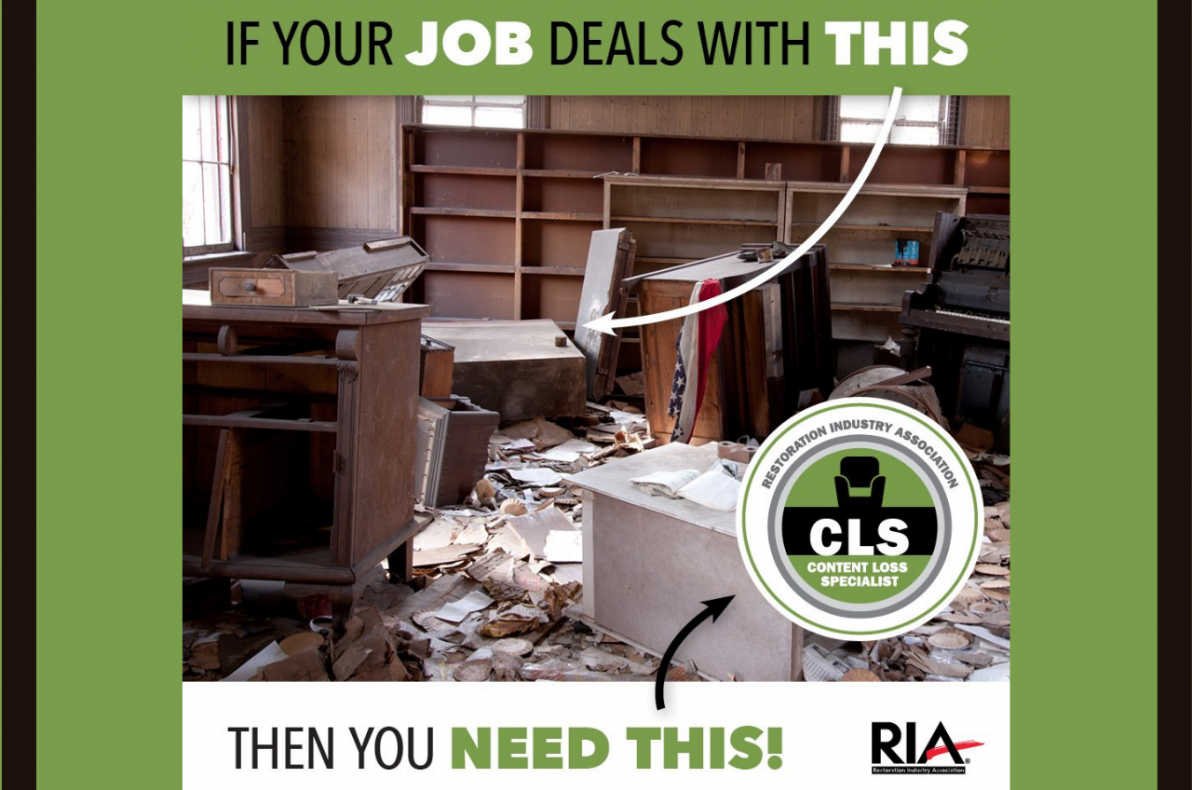 The Restoration Industry Association (RIA) provides those who are searching to expand their restoration and remediation skills with a variety of advanced restoration certification programs.
A restorer can choose from three advanced certification programs including Fire Loss Specialist, Water Loss Specialist, and Contents Loss Specialist. Each program provides the training and skills needed to take any restorer's expertise to the next level.
Today we'll focus on the Contents Loss Specialist (CLS) Advanced Certification Program to explain what a Contents Lost Specialist does, give a brief rundown of the certification program, and more.
A Rundown of a Contents Loss Specialist
At the most fundamental level, a CLS is able to identify all aspects of what it takes to care for a customer's personal belongings at an expert-level, according to Josh Smith, CMP, CLS, COO and technical director for PHC Restoration; a CLS understands the entire contents process of the job, whether it's a pack-out, cleaning, storage, or return.
And having someone on staff who knows what can and cannot be restored is key to keeping policy premiums and claim sizes down.
An example of the specialty is art conservation, in which a CLS deduces what type of damage—such as fire, water, mold, or smoke damage—has been done to the piece of art. Then using a wide range of techniques and technologies, the CLS will reduce the impact of deterioration to the art.
A CLS can also dive into textiles, electronics cleaning, and refinishing to get any job done. According to Tammy Stokes, CLS, and general manager at Oklahoma Disaster Restoration, she had to hone her CLS skills as higher-end customers started to ask for her services.
"We had to start really knowing the difference between a $40,000 Persian rug and a $300 rug from the mall," Stokes said. "I had to start learning the really detailed stuff about the different things I'm dealing with like textiles, clothing, wood, furniture, antique furniture."
But a CLS doesn't just specialize in pieces that make up a home. Through the CLS Advance Certification Program, a future CLS can help identify other problems, such as whether there is microbial growth that could potentially be harmful to a customer with a compromised immune system.
And, if necessary, a CLS will know if an object has been damaged to a point where it cannot be restored.
CLS Education
In the realm of contents loss, a vast array of knowledge is needed to take care of a customer's belongings. That's where the CLS program comes in.
The first step towards the CLS certification  is to meet the pre-qualifying requirements in education and work experience. This includes having a high school diploma or equivalent education and attending a training school that teaches courses similar to contents and restoration. A restorer needs to show five years of verifiable work experience or three years of verifiable supervisory experience.
The second step is to complete the Contents Loss Specialist prerequisite courses. These seven domains include restoration training, health and safety, and microbial remediation, to name a few.
For the third and fourth steps, restorers need to take the CLS prep course and exam and then complete the Content Loss Specialist Formal Report.
Owing to the prerequisites and rigorous training of the CLS advance certification program, the certification is more than just a piece of paper that says "complete." It also gives restorers the confidence they need to help their customers with a new level of expertise.
"It's an identification that you are higher on the contents scale than others," Smith said. "You've put in additional high-level training, to where you can identify what the customer's needs are and be able to proactively provide those services."
For Stokes, she took the CLS course with people that she had heard from in the industry but never had any learning experiences. By the end of her experience with the CLS course, she gained even more knowledge from it and from those who took the course with her.
"It was very good for me to learn different things from other professionals," Stokes said, "because I always thought I knew it all. I knew a lot at the time. It was really good to get to know some stuff from other professionals, who had the exact same kinds of stories, to see that we all had the same experiences."
Who Should Get a CLS Certification?
The CLS designation would be desirable for anyone that wants to improve their understanding and appreciation of contents restoration.
A restorer that handles contents in their company should participate in the CLS program. This could be an owner of a restoration firm, someone who manages jobs, leads a department, or even expert witnesses. Stokes points out that individuals who are the main salespeople for a firm's contents division should take the program to better explain the services they provide to customers.
The program will also help enhance the career of anyone who wants a greater understanding of the industry and to build the necessary confidence in those assisting people  who have suffered loss due to unforeseen events.
Why CLS
For both Stokes and Smith, it's important for contents loss specialists to realize that how they interact with their customers and their belongings has real meaning to their customers.
"The contents of somebody's house, those are the memories," Stokes said. "These belongings can carry a lot of memories."
"All specialists need to understand that there are items that were either left to them by a family member, or that they were special enough to move to a new home or business," Smith said. "They took them with them so that means something to the customer."
Interested in the Contents Lost Specialist program or other RIA certification programs? To find out more details, click here.